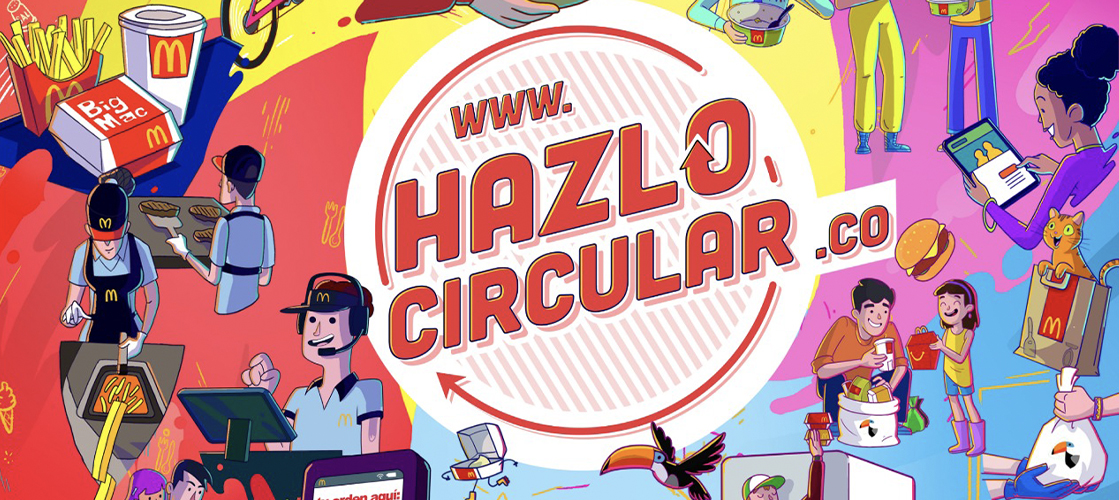 We launched "Hazlo Circular", a collaborative recycling pilot in Colombian households
Under the slogan "Your delivery does not end when you finish eating", we seek to extend our commitment to recycling to McDelivery customers in Bogota, offering them a free and simple solution so that food packaging does not become garbage.
With the support of iFood, the project will allow our consumers to enroll in a collaborative recycling tribe that collects their usable waste at home, measure the decrease in their household carbon footprint and accumulate points to redeem in the startup Amazóniko, which currently closes the cycle of usable waste from 6,300 households in the Colombian capital.
"As part of the Recipe for the Future, we are working on initiatives to move towards a circular economy, promoting recycling and waste recovery. One of our goals for 2025 is to recycle 100% of our customers' waste in restaurants; for which we are implementing separation bins and other recycling solutions in McDonald's restaurants in Colombia. Now, with this collaborative recycling pilot in place, we can also move forward in closing the cycle and recovering of packaging from our customers who order at home".

Héctor Orozco, General Manager of Arcos Dorados in Colombia.
Among the benefits of belonging to the "Hazlo Circular" collaborative recycling tribe are:
Schedule free home collections of your usable waste.
Receiving feedback and advice for proper recycling.
Earning "Amazoniko points" redeemable with the partners of this platform.
Measure the reduction of carbon footprint and the amount of recyclable waste being recycled in each household.
Participate in exclusive tribe events.
Learn how the waste cycle was closed and what new materials or products are bringing it to life.
Since its foundation, the Amazóniko startup has promoted the transformation of recyclable waste by connecting, training and encouraging households and recyclers to create a balance for the planet, with more than 350 tons of recyclable material used and 23,600 collections in Bogota households.
According to a consumers' survey in Bogotá, 74% stated that they care about the reasonable use of packaging at home, while 66% are interested in learning more about waste separation. While 98% of customers believe that recycling should be a common practice in people's daily lives, the majority of respondents (75%) do not know where their waste goes.
"There are more and more of us who, to the best of our possibilities, want to contribute and be part of a change even if we do not always know how to do it. That is why, we decided to unite these individual wills to do something big: to build a new world with the same materials. We use technology to guide and motivate communities in the separation of their waste and we also dignify the work of recyclers, highlighting the importance of their trade. Thanks to the commitment to the circular economy of companies such as Arcos Dorados and iFood, we will reach a new group of people who will be able to join this collaborative recycling community".

Daniel Rodríguez, Founder and CEO of Amazóniko.
To join the "Hazlo Circular" tribe, please go to www.hazlocircular.co and register on the Amazóniko platform. By doing so, you will receive a free recycling kit at your homes with instructions to start separating your waste and start scheduling, free of charge, the collection of usable waste at your homes.